The eyes of each bird beckoned by saying to me, look at me.
When I painted "Wisdom and Wonder" for this winged family trio I couldn't resist adding three additional cameo artworks called: "Look At Me". Australian Tawny Frogmouth owls form a family partnership for life and like to live in the same location for many years. I was inspired by this family sitting out the front of my house, and when I studied the photograph I was captivated by the three different expressions in the eyes of each bird.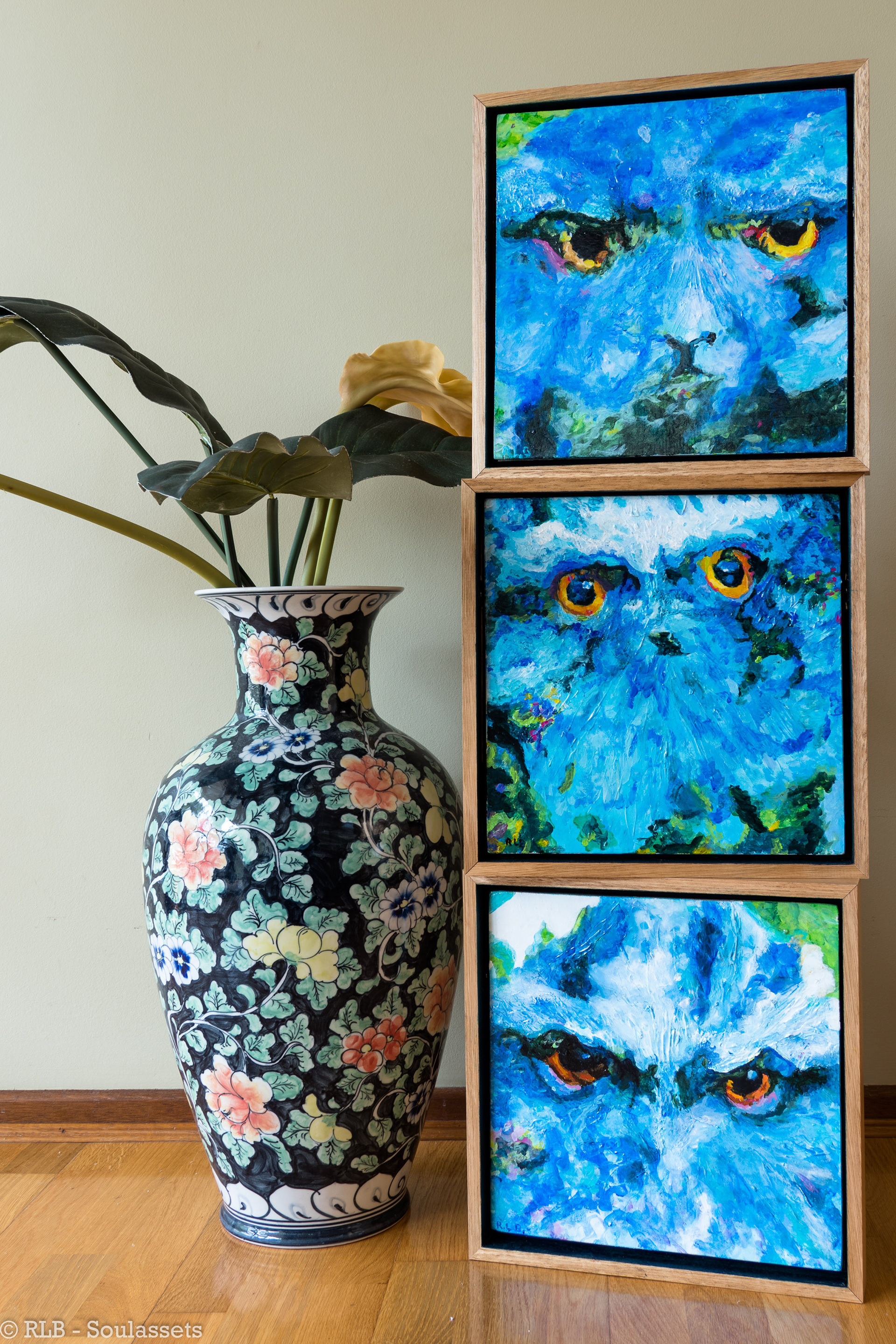 Each cameo artwork is painted on 30.5 cm square hardboard, and them mounted on 1.5 cm premium pine frame. I have used moulding paste to feature the eyebrows of each Frogmouth and then protected the acrylic in three coats of varnish.  In creating the three separate cameo pieces I decided to feature each bird's face in a handmade Tasmanian Oak frame. Each artwork is then set into each frame at a sequentially stepped depth; this gives the effect of one bird sitting behind the next bird.  
The acrylic mounted artworks have been screwed with brackets into the Tasmanian Oak frames measuring 34 cm square and a depth of 4 cm.  The exterior frames have been left to show the natural grain of the oak and have three coats of clear varnish applied. The interior of the oak frame has been stained with a deep turquoise acrylic and the back of the frame lined in matt black cardboard backing. The separate mounted artworks can be easily removed from the frames, by unscrewing then from the brackets, if you should wish to reframe them.
As this artwork consists of three separate pieces it allows the artwork to be displayed on a wall in many ways, either vertically, diagonally or horizontally. They can also be placed to stand alone on a sideboard or display shelf without the need for hooks in a wall.